Top Rated Local® Indoor Mini Golf and Drinks
One of the terrific things about indoor mini golf is that it's a blast for people of all ages, skill levels and competitiveness. Old Town Putt started because of our love of putt-putt golf and a desire to enjoy this amazing pastime all year long. But mini golf alone isn't enough!
We feature a full drink menu, complete with cocktails, wine and your favorite local and national beers. Beyond that, our Fort Collins bar provides a host of fun activities and bar games for you to enjoy. From ping pong and skeeball to mini golf and shuffleboard, you'll never find a dull moment with us. We're also an amazing place to host a private event or party. So get your putts in here!
A Swingin' Good Time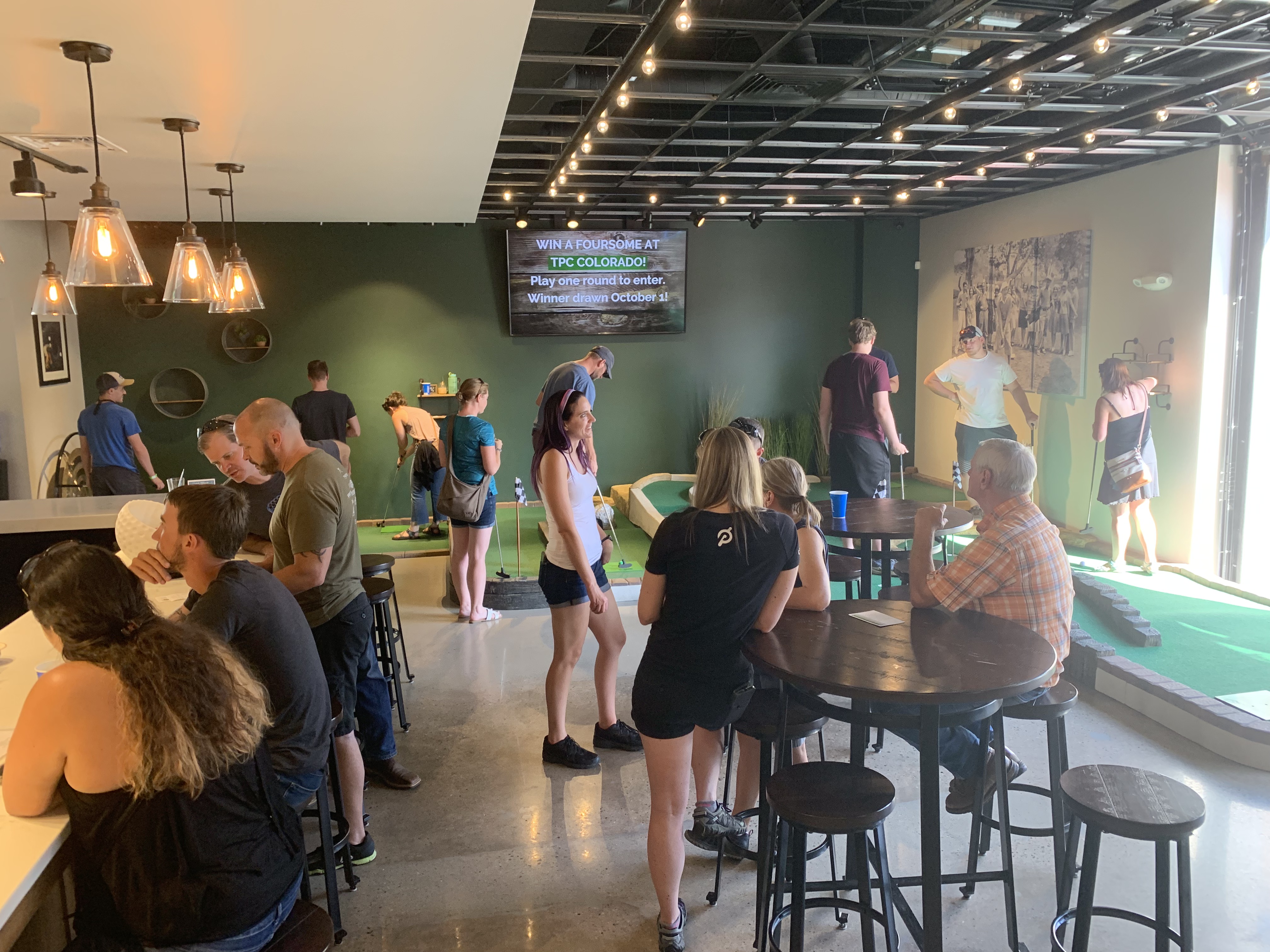 ---
Ziplining? Really? Karen is never going to strap on that harness and will be demanding a meeting with the manager in ten minutes flat.
Rock climbing? Please. Linda is not amused.
Obstacle courses? C'mon. There's a reason Toby schedules his vacation to coincide with the yearly sales meeting — and this is it.
To put it bluntly, you need your group event to be inclusive of everyone's needs and hopes. No extreme athleticism needed. No embarrassing photo-ops. And for Karen's sake (forget Pete) — absolutely no humiliating body harnesses.
Providing fun, competition, dignity and a tad bit of adult indulgence, a custom event at Old Town Putt is just what your team needs. Specializing in group events, we make your affair one that your crew can't wait to brag about. We create challenges that really challenge, letting coworkers bond without blushing.
Of course we wouldn't stop there. We also invite private parties of all sizes to discover the benefits of friendly competition. From birthdays to anniversaries, from bachelor parties to graduation celebrations, indoor mini golf is a great way to have big fun. Huge.
Party Packages
Room rentals include discounted mini golf and catering options are available from a variety of eateries just outside the door!
Not Your Average Party
Every party has food and drinks, but make your next work or social outing extraordinary at Old Town Putt. Your outing will have all the basics, plus the mini-golf fun that everyone loves. Better yet, our course is completely indoors, so there's no need to worry about a rain check!
---
With a 400 sq. ft. party room, holding up to 20 of your friends and family, 9 holes of indoor mini golf, a 65″ TV with multimedia capabilities and great food and drinks, your party is guaranteed to be a hole-in-one!
Rental Information
Weekday Party Area
$50.00/Hour
& golf/drink packages available
Weekend Party Area
$75.00/Hour
& golf/drink packages available
Full Venue Buyout
Will vary throughout the year. Call for additional information.
Stop By or Contact Us Today!
Curious? We thought so. Contact us now and we'll get you all the nitty-gritty details regarding rates, availability and possibilities!